Free Softwares To Make Music - 2022
This blog will let you know about free softwares to make music available on the internet.
I had a lot of pals that wanted to know about free softwares to make music. As a result, I decided to publish an article highlighting some of the best free softwares to make music available on the internet. I mentioned 8 best-in-class software from which you can choose according to your preferences.
GarageBand makes music recording simple for both beginners and professionals, and it comes standard with every Mac. The app is still the most excellent method to study piano or guitar on a computer. It is as simple as arming a track and clicking the Record icon to begin recording.

GarageBand is compatible with the great Logic Remote program, which is accessible for free on iOS devices. We can wirelessly play any GarageBand instrument on the Mac with our iPad or iPhone, and tweak the Smart Controls for specific sounds. It also includes transport controls, allowing us to record with a guitar or vocals on one side of the room while remotely starting and stopping the Mac on the other using Logic Remote.
There's a great sound library pre-installed, and Apple has been steadily expanding it over the years. We receive an assortment of sweet-sounding acoustic and electronic drums, electric and acoustic basses, and a limited selection of synth pads, leads, and basses right out of the box. There's a wonderful electric piano, acoustic piano, clavinet, and tonewheel organ, as well as Mellotron patches and clean electric and acoustic guitars, strings, brass, woodwinds, and percussion, the orchestral instruments include multiple choir samples, a harp, and a pipe organ. The Erhu and Pipa are Chinese instruments, whereas the Guzheng, Koto, and a set of Taiko drums are Japanese.
2. Audacity

Audacity is a free, open-source, cross-platform audio editor for Windows, Linux, or Mac users. It's available for both 32 and 64-bit versions, 64-bit for macOS, and Linux 64-bit Audacity Applmage is provided. Its predominantly used for voiceovers, podcasts, and youtube videos.
In addition to recording audio from multiple sources. Audacity can be used for post-processing all types of audio, including effects such as normalization, trimming, and fading in and out.
It can capture live audio from a microphone or mixer, as well as digitize recordings from other sources. Sound files can be imported, edited, and combined. We can export your recordings in a variety of file formats, including many files at once.
It supports 16-bit, 24-bit, and 32-bit resolutions. Conversion of sample rates and formats is accomplished by the use of high-quality resampling and dithering.
Editing is simple Cut, Copy, Paste, and Delete. There is also limitless sequential Undo (and Redo) in the session, allowing you to go back any number of steps

LADSPA, LV2, VST, and Audio Unit (macOS) effects are shown in real-time. The Plug-in Manager is in charge of plug-in installation as well as the addition and removal of effects and generators from the menus.

The keyboard can be used to fully modify tracks and selections. A wide variety of keyboard shortcuts are available. also comes with spectrogram view mode is used to visualize and choose frequencies. Plot the Spectrum window for in-depth frequency analysis.
3. LMMS
LMMS is a free music creation and editing program. It has a variety of virtual instruments for the user to use when creating tunes.
It's available for all the platforms like macOS, Windows, and Linux. In one simple interface, we can sequence, write, mix, and automate music. We can play back notes via MIDI or by typing on the keyboard. It includes Piano Roll Editor for fine-tuning patterns, notes, chords, and melodies.
It also has drop-in LADSPA plug-in support, drop-in VST effect plug-in support (Linux and Windows), and a built-in compressor, limiter, delay, reverb, distortion, and bass enhancer. One more thing that it includes is- Bundled graphic and parametric equalizers and a built-in visualization/spectrum analyzer.
The waveform is undoubtedly one of the best options for inexperienced artists or beginners looking for a competent and, most importantly, free DAW (Digital Audio Workstation).
Tracktion Corporation created a robust program with numerous capabilities, many of which are notably visible in the most recent editions.
Of course, the extensive possibilities for sound fine-tuning make Waveform excellent not just for novices but also for experienced musicians.
It is compatible with Windows 8, 10, macOS 10.11, and later, Linux, and Raspberry PI 2,3,4.
Waveform Free features all of the fundamental DAW capabilities, such as volume control, plug-in connection, copy and paste, select or deselect all, and more. It also has a track and output panel, track inputs, a MIDI editor, a mixer panel, and a variety of other functions.
5. Cakewalk
Cakewalk is one of the finest free music production software programs available. With songwriting tools and instruments, we can effortlessly produce songs.
It records inspirational performances in high quality with an infinite number of audio and MIDI tracks. Assists in the correction of errors, the arrangement of sections, and the manipulation of pitch, time, and any other feature of our recordings.
Cakewalk by BandLab has you covered for tracking, mixing, and mastering, with effects ranging from the fundamental to the unusual. Build and modify your channel strip with an expanded collection of ProChannel modules ranging from convolution reverb, resonant filtering, dynamic compression, and strong EQ to tape and console emulation, peak limiting, and tube saturation, designed to imitate the structure of an analog console. It's also compatible with touch devices and adds an analog feel and workflow-enhancing efficiency.
It's also a high-end music production software. It's ideal for small and large parties, as well as just hanging out with friends or for leisure time. The mixer is simple to use and connects to a console with ease. The aesthetic look of the Serato Studio user interface will appeal to the user.
Serato Studio comes with a library of preloaded Drum Kits, Samples, and Instruments. So, if we don't already have a sample library and VST collection, there's plenty to get our hands-on. There are also several free sound packs available for download from the Serato website, created by well-known producers and sound designers.


7. Darkwave
It's also a great and easy-to-use free and open-source music-producing software.
Featuring a modular Virtual Studio, Pattern Editor, Sequence Editor, and Multitrack Hard Disk Recorder.
It has support for VST/VSTi instruments and effect plugins. The virtual studio has a modular design allowing machines to be connected in an ad-hoc fashion. The pattern editor enables the quick creation and modification of patterns by clicking to add or delete notes and dragging notes to move or resize them.
The sequence editor allows you to queue patterns to play for each control track in any arrangement, enabling the reuse of patterns and quickly remixing projects. The Multitrack Hard Disk Recorder allows you to record the output of any machine and record it to a 16-bit Integer of 32-bit Floating Point PCM encoded. WAV files for full-quality post-production editing or for conversion to MP3/FLAC/etc.
WAV files for high-quality post-production editing or conversion to MP3/FLAC/other formats.


It is available in both hardware and software forms. Its digital copy is free.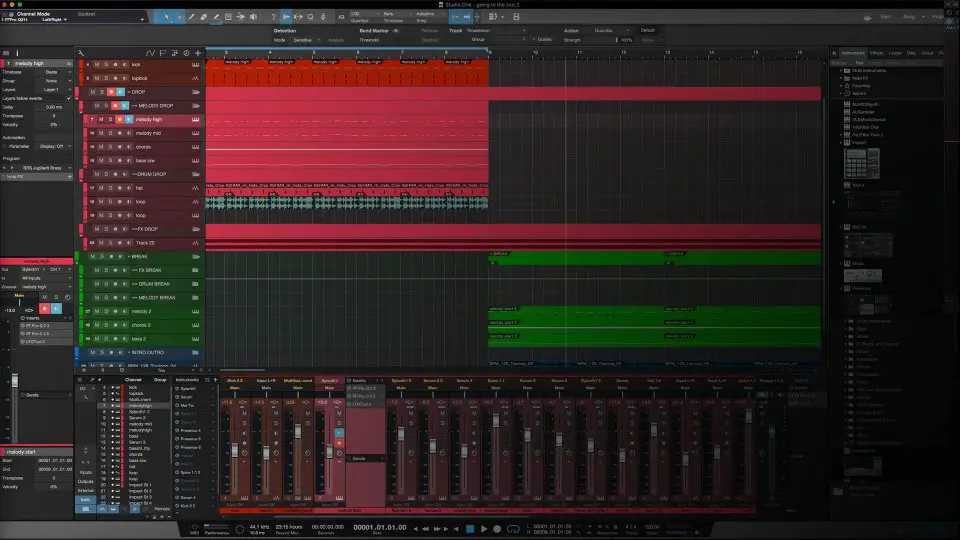 We can quickly record, create, and mix everything from a single, user-friendly program. One of the greatest free music creation sites for beginning musicians. The free version of the program cannot load VST or AU plugins (for that, you'll need Studio One Artist with a paid add-on or Studio One Pro).

At first appearance, the UI is far from uncluttered and may be somewhat daunting. The track overview (useful for a quick review and concealing tracks) and the property viewer are on the left side.
The tracks are in the center, followed by the mixer, audio editor, and piano roll at the bottom.

The plugins (instrument and effect) and a sample browser are located on the right side. The transport controls are located at the bottom.
I hope this article containing free softwares to make music was beneficial to you. Please share this with your friends who need this kind of information.